'Bundiyarra, a good place to go' Film Australian National Launch on NITV
On July 17th July 2014 at 6.30pm, the story of 'Bundiyarra, a good place to go' was featured on NITV.
The story was recorded by the Film & Television Institute in July 2013 to commemorate Bundiyarra being Incorporated and operating for 15 years. On National Apology Day, February 13, 2014, Bundiyarra Life and Board Members travelled to Perth to attend a VIP launch screening in Northbridge.
The invitation from FTI stated 'Bundiyarra' is the story of the Bundiyarra Founding Elders and how they fought to win their land, in what became one of the first land transfers in Western Australian history. It was noted that the story of Bundiyarra was one of the strongest stories recorded at that point in time.
Attached is a photo of one of our Founding Members Mr Rob Ronan on the Big screen in Perth (photo courtesy ABC Open – Chris Lewis).
Following, we have two more stories that will be screened. The story of Mr Ollie George, a Badimaya Elder will be screened on 23 July at 6.30pm followed by the story of Ross Boddington, our Wajarri Elder will be screened on 13 August at 6.30pm.
This is great for our Midwest people. Any publicity on community service announcements ect, will be greatly appreciated.
---
BUNDIYARRA GARDANTHA
MAY 2014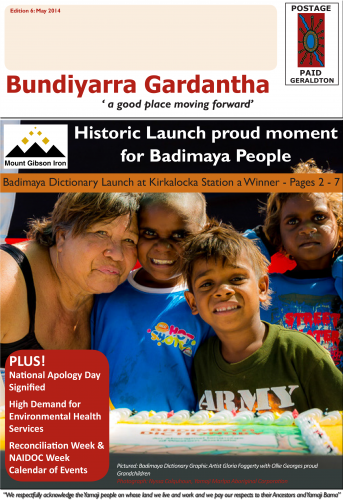 ---
Renovated & Ready Bundiyarra
Conference Room is Now Available to Hire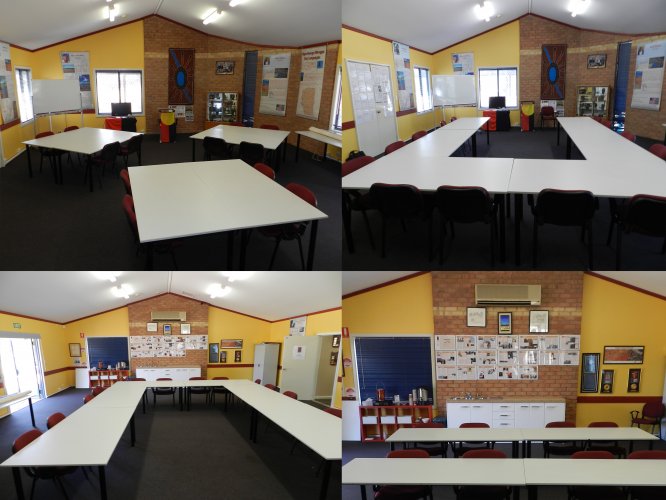 Since the early 1900's, Bundiyarra has been a
'meeting place'.
Set amongst a natural bush setting, Bundiyarra exudes culture from the time you arrive.
The people at Bundiyarra are amazing, experts in their field and love to enjoy a good yarn with anyone that
wants to share culture.
By hiring our conference factility, you will be helping us to build many more significant facilities for our future.
Loads of FREE parking
Tucker included in the hire price
Traditional Lemon Myrtle Bush Tea served hot on arrival
Damper with Butter and Golden Syrup
Coffee, Hot Chocolate, Bushels and Green Tea
Other bit and pieces included in the price
Whiteboard
Data Projector and Screen
Sitting, waiting room
Multiple setup options
Choose from U Shape, Theatre or Group setup (max 30 pax)
Event, Cocktail setup (max 50 pax)
Price
Half Day: $175.00
Full Day : $320.00
Please respect our values; Bundiyarra does not permit the
consumption of drugs or alcohol on the grounds or inside the
buildings
To make a booking, inspect our Conference Room facilities or make an
enquiry please phone Kathleen Nelly on 9920 7900 or email your enquiry
to reception@bundiyarra.org.au